Employee Assistance Program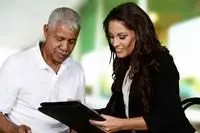 I am affiliated with many Employee Assistance Programs, including Sarasota County. Check with your HR representative to see if one of your employment benefits includes one or more Employee Assistance Consultations.
Sarasota County provides its employees up to 6 consultations per problem per year. Other plans usually provide three to six visits per problem or per year. Employee Assistance problems include identifying and managing daily stress, decision-making, relationship problems and other problems that do not arise to the level of mental health problems.
If a diagnosable mental health problem is identified, it is a medical problem and most organizations expect it to be dealt with through one's health insurance plan. If a non-mental health problem is identified and being dealt with through an employee assistance program but visits are limited, discontinuing counseling/therapy might lead to an exacerbation of stress and psychiatric symptoms and qualify for a psychiatric diagnosis and use of one's health insurance plan for further treatment.
How do you know if your problem qualifies as an Employee Assistance issue? You might not know but an employee assistance counselor can help you find out and might also help you resolve your issue in just a few visits. So, check out your plan!